You are here: Homepage >> Events In Cardiff >> Pop Concerts & Festivals >> One Direction
One Direction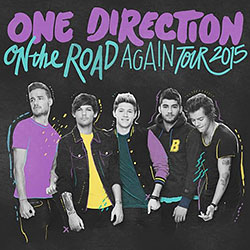 When: Friday 5th June 2015 -> Saturday 6th June 2015
Where: Millennium Stadium, Cardiff City Centre
One Direction will perform two massive gigs at the Millennium Stadium on Friday 5th and Saturday 6th June 2015. The two performances at Cardiff's Millennium Stadium will precede a full UK tour by the chart-topping boy band later in 2015.
One Direction released their fourth studio album, Four, in November 2014 and it topped charts across the world – confirming their status as the world's biggest pop act.
McBusted will support One Direction at both of their Millennium Stadium shows.
Tickets for One Direction's Millennium Stadium shows are on sale now. Follow the link below to buy tickets online: