You are here: Homepage >> Events In Cardiff >> Sports >> The Gauntlet Games Cardiff
The Gauntlet Games Cardiff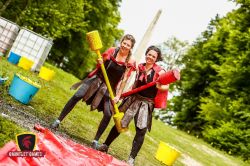 When: Saturday 22nd July 2017 - Starts at 9:30 a.m. and end at around 1:30 p.m.
Where: Coedarhydyglyn, Culverhouse Cross, Cardiff CF5 6SF, Cardiff CF5 6SF
Interested in a fun day out?
The Gauntlet Games is a unique obstacle course race themed around Gladiators. It focuses on having fun throughout the entire course but there will also be a lot of ways to have fun off the race course. Everyone is invited to come to our FREE event festival. Visitors will get the chance to be spectators of the race but we also offer great food, a kids play zone and an activities and game zone where adults can become kids again.
Gladiators, READY! Battle Real Gladiators at a hilarious Game-Show Obstacle Course coming to London!
The Gauntlet Games is a series of 5km and 10km game-show style races that will be taken on tour across the UK in 2017.
The World's only obstacle course with over 20 real Gladiators armed with inflatable weapons, paint guns and foam! This is where runners of all abilities, shapes and sizes get to feel like a child again, complete with foam, mud and many giggles.
But not only do we promise lots of fun on the race course but also off it. Everyone is invited to our FREE Event Festival where visitors get the chance to have fun and enjoy themselves in our different themed zones.
The different zones are:
- Spectator Interactive Zone
- Fancy Dress/ Selfie Zone
- Nourish & Pamper Zone
- Kids Zone
- Team Games/ Adrenaline Zone
- Race Zone
- VIP Zone
- Warm-Up and Start Zone
It's completely free to come to the Event Festival, or if you want to take part in the race, tickets start at £36, which includes a free t-shirt and medal.
Car parking is available at our event in Manchester, Cardiff, and Brighton/ Crawley, and costs £5 per car.
Find out more and sign up at www.thegauntletgames.co.uk
Related Links