You are here: Homepage >> Events In Cardiff >> Comedy >> Comedy Tour Show - Wahala Comedy Clash: Jamaica Vs Africa (16+)
Comedy Tour Show - Wahala Comedy Clash: Jamaica Vs Africa (16+)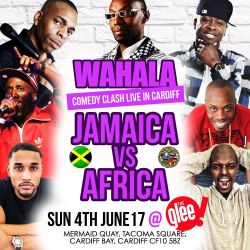 When: Sunday 4th June 2017
Where: The Glee Club, Mermaid Quay, Tacoma Square, Cardiff Bay, Cardiff CF10 5BZ
The ultimate comedy grudge match and battle. Slim, Kojo plus more go head to head for one night only
TIMES

Doors open 18:30:00
Last entry 19:00:00
Show starts 19:30:00

JAMAICA VS AFRICA
Europeís most successful urban comedy event finally comes to this great city. The only comedy show where comedians battle live on stage. Featuring heavyweights Slim, Kojo plus more.

Not only do comedians perform tailor made stand up comedy routines to the theme of the show, they also battle each other to win points for the team they represent.

Nothing is held back and comedians go all out, this show has sold out in London, Birmingham, Manchester and Leicester. Get ready to cry with laughter, as comedians go for the jugular.

This event is guaranteed to sell out, donít delay, buy your tickets early.