You are here: Homepage >> Events In Cardiff >> Comedy >> Stuart Goldsmith
Stuart Goldsmith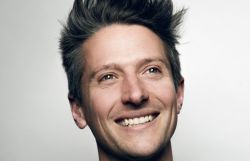 When: Thursday 26th July 2018 - 7:30pm
Where: Sherman Theatre, Senghennydd Road, Cathays, Cardiff, CF24 4YE
Stu's back with some thoughts on how it all works out in the end, and whether anyone cares.
A hilarious safari through rare diseases, mishaps with appliances, and the chance to convince your son you've got some sort of backbone. Taking in ambition, money, a sort of moral autopilot, and whether men as a species are worth saving.

A Goldsmith always pays his debts.

See Omar Hamdi on the same evening - 2 tickets for £10!