You are here: Homepage >> Events In Cardiff >> Comedy >> Omar Hamdi
Omar Hamdi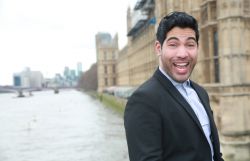 When: Thursday 26th July 2018 - 9:00pm
Where: Sherman Theatre, Senghennydd Road, Cathays, Cardiff, CF24 4YE
The Welsh-Egyptian satirist takes aim at prejudice, racism, Islamophobia, and social and political misdeeds wherever he finds them.
Equal parts smart and silly, his free-wheeling new one hour show about culture, conflict and dreams will be unlike anything you've seen before.

£10 when combined with a ticket for Stuart Goldsmith. Please call our Box Office to book this.
Related Links