You are here: Homepage >> Events In Cardiff >> Other >> ELIS JAMES & JOHN ROBINS
ELIS JAMES & JOHN ROBINS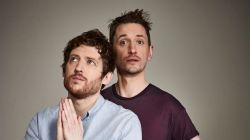 When: Thursday 25th October 2018 - 18:45 - 23:00
Where: Glee Club, Mermaid Quay, Cardiff Bay, Cardiff, CF10 5BZ
Join Elis and John for a live reading from their debut book 'The Holy Vible'. Over the course of the reading we will deal with topics such as Shame, Ronnie O'Sullivan and Gorkys Zygotic Mynci and also give a rare glimpse into the off-air world of commercial digital indie radios most unproducible presenters.
All under 25s may be asked to produce valid ID (See FAQ's)
14-16 year olds must be accompanied by an adult with a ticket to the show.