You are here: Homepage >> Pubs >> Cardiff Bay >> Terra Nova
Terra Nova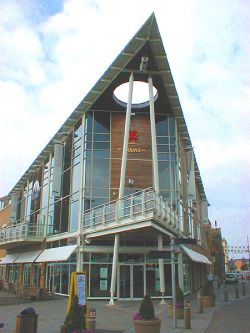 Stuart Street, Mermaid Quay, Cardiff Bay, CF10 5BZ [Map]
Tel: 029 2045 0947
Occupying one of the best spots in Cardiff Bay is Terra Nova; a smart sophisticated bar, popular with both the locals and tourists alike.

With its elegant glass fronts and stylish balconies this is the perfect place to spend a Summer evening looking out over the bay.
Formerly known as Via Fossa, this bar was purchased by Brains Brewery in Spring 2003. Whilst the ownership may have changed the pub itself remains largely unchanged except for an extended food menu and a new name.

More 'dark and sophisticated' than 'cool and trendy', Terra Nova is both a bar and restaurant and it excels at being both. The food ranges from simple bar snacks to full meals and the choice is excellent.

Terra Nova is a far larger bar than you might at first think. It's set on 4 levels so there are plenty of nooks and crannies to be explored here. In keeping with the 'marina' theme of architecture common around the bay, Terra Nova is shaped like a ship's bow and even contains a seating area resembling a crows nest up on the top floor.

All in all a very nice looking bar with an atmosphere all of its own. Grab yourself a bottle of wine and watch the world go by in Mermaid Quay...

Interesting Fact: 'Terra Nova' was the name of the ship on which Captain Scott set sail for Antarctica from Cardiff docks on 15th June 1910.
Posted by Taffy 17th February 2003