You are here: Homepage >> Pubs >> Closed >> Glassworks
Glassworks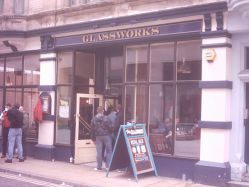 IN FEBRUARY 2004 THIS BAR CHANGED TO: COPA
Located between St Mary Street and the Hayes - this city centre pub is popular with shoppers who wanna take the weight off their feet and catch up with a bit of the sporting action on TV.

The large windows at the front and side of this pub invite you into a relaxed and friendly atmosphere. Bar meals are served throughout the day and are generally good value for money.

At night the music is turned up and the party goers roll in. It attracts a variety of people as its location lures drinkers off the busy St Mary Street trail.

I've seen a lot of hen parties going on in this place so it's obviously popular with the ladies.

Nothing wildly different about this pub but it's as good as any in the city centre. It deserves a pat on the back for being one of the few pubs to open up for the England v Brazil World Cup game (7am!!).
Posted by Taffy 18th May 2003