You are here: Homepage >> Pubs >> Closed >> Bar Cuba
Bar Cuba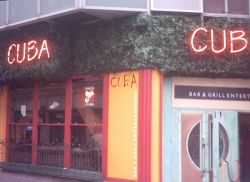 THIS BAR HAS NOW CHANGED TO: THE LIVE LOUNGE
...there's Latin spirit in everyone! Fancy a cheap drink to start off your evening? Head for the Bar Cuba 'Happy Hour'...

Bar Cuba is a great place to start or end your evening. From around 7pm on a Friday night you will be in 'Happy Hour' and can stock up on some of the excellent lager and cocktail offers.

From 11pm onwards, you can boogie on down on the dancefloor to disco classics from the last few decades. The music styles vary throughout the week - but check out the World Music nights for a real taste of all things Cuban.

For those of you who really believe you could be the next Shakira or Ricky Martin, there are Salsa classes every Tuesday at 8.00pm...grab your maracas hombres, and get ready for some serious hip wiggling!
Posted by lizzie 18th May 2003