You are here: Homepage >> Pubs >> Cardiff Bay >> Wharf
Wharf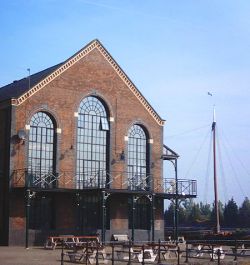 121 Schooner Way, Atlantic Wharf, Cardiff, CF10 4EU [Map]
Tel: 029 20 405 092
The Wharf is a large bar/restaurant located alongside Atlantic Wharf in the Cardiff Bay area.

For the last 5 years, every Thursday evening, The Wharf bar has showcased some of the best comedy acts to have come to Cardiff.
After phoning the club in advance, I was instructed that if I wanted to get a seat - I would have to be through the doors by 8pm. Bearing in mind that the comedy acts do not come on till 9.30pm, I thought this might be slightly OTT but I took heed of the warning and arrived at 8 to find the place nearly empty!

Excited, I got myself a pint and scouted the joint to find the best place from which to see the acts AND avoid getting picked on by the comedians - a fate worse than death in my book. I chose my table and to my horror it was reserved...as were most of the others. Now I would rather get rogered by a large horse than take a seat in the front row. So, I sat down on a tall uncomfortable bar stool and waited for the frolics to unfold.

Let's get down to brass tacks; to get into the place you have 2 options. It's either £4 entry or £7 for a meal deal. I chose the standard entry and my date went for the meal deal option. There was only a small selection of food on offer so an order was placed for a cheeseburger and chips. When it arrived the burger looked like Alsatian meat and I could have got more cheese from between my toes...but for £3 you cant moan.

Slowly and surely people started streaming in through the main door until it was standing room only. My bar stool was becoming increasingly more comfortable by this point! The variety of people that came through the door ranged from the young to the old. Groups of blokes and groups of attractive girls, not that I was looking, went straight to the bar. Not an ideal place to pull unless you can work fast between the comedy acts - 20 minutes for anyone wanting to give it a go ;)

There is no dress code so there is a very relaxed atmosphere and everyone is up for a good time. The pressure on the comedians is immense but they rarely fail. The standard of comedians attracted by The Wharf is top class. You are pretty much guaranteed a good night - by the end of it all you are hammered anyway. I think it is the prospect of getting humiliated in front of the whole pub that makes you drink a lot faster. Anything and everything becomes funny!

So, my hints to you are:

If there is a group of you going, book in advance and try to book a table. If not, be prepared to stand.
Get in by 8.45 and this will give you enough time to get a drink, 8.30 if you're eating because it fills up very quickly.
£4 is great value for a night of top comedy in a nice setting AND they also serve alcohol throughout the acts.
Avoid the dog burger and if you need to go for a piss during the act - be prepared to be hounded by the comedian. You have been warned !!
Posted by thawk 11th April 2003