You are here: Homepage >> Pubs >> Canton & Vic Park >> Victoria Park
Victoria Park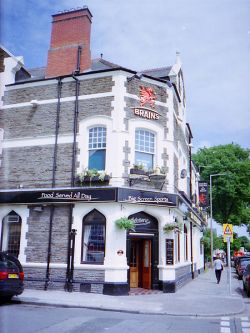 422 Cowbridge Rd East, Canton, Cardiff, CF5 1JL [Map]
Tel: 029 2038 3879
I'd walked past this place on plenty of occasions but had never quite ventured in. I don't know what I was worrying about - it's a really nice pub!
This is a Brains pub so the usual selection of beers are on offer behind the bar. Food is also served throughout the day.

They have a large plasma screen on the wall for showing footy and rugby matches, and from what I have been told it can get quite busy on big match days.

There are comfy sofas towards the far end of the pub so you can kick back and relax with your drink. There is also a small beer garden/courtyard out back for when the sun is shining.
Posted by Taffy 14th May 2003