You are here: Homepage >> Pubs >> Out-of-Town >> Greendown Inn Hotel, St Georges
Greendown Inn Hotel, St Georges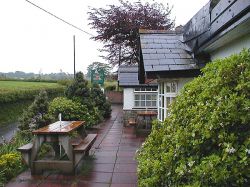 Drope Road, St. Georges, Nr Cardiff, CF5 6EP [Map]
Tel: 01446 760310
I first started going to the Greendown a few years back. They do a cracking quiz night on a Saturday which I used to go to religiously. Things change and at some point or another I stopped going but the quiz has survived the years and, as far as I am aware, still goes on every Saturday.
The bar itself is smallish but very inviting; as is the atmosphere. A few regulars populate the side of the bar each evening and the clientele consists mainly of people who live in the local area.

The decor is 'old-style' which befits its location in St Georges. The building itself must date way back because the beams in the ceiling are low enough to clobber your head on! The bar staff are a very friendly bunch who will even remember your order if you visit often enough.

As the Greendown is a Hotel they serve a wide variety of food. There is a bar menu as well as an à la carte menu. I personally, have only sampled food from the bar menu but can honestly say it is very good and very reasonably priced. I highly recommend the chilli nachos and chicken tikka masalla with half and half.

Thursdays see a 'Buy one - get one free' (BOGOF) offer on main courses. This means two people can have a two course meal for as little as a tenner!

The whole atmosphere is very enjoyable but the only thing that lets it down is it's distance from civilisation. It is a good car journey from anywhere but it is definitely worth it and I will continue to make the weekly journey as it is possibly my favourite pub in Cardiff.
Posted by Keefah 23rd May 2003