You are here: Homepage >> Pubs >> City Centre >> Toad at the Exhibition
Toad at the Exhibition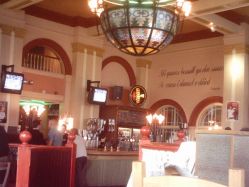 18-19 Trinity Street, Cardiff City Centre, CF10 1BH [Map]
Tel: 029 2066 6566
The Toad at the Exhibition can be found in 'the old library building' just off the Hayes in the centre of Cardiff. It's quite popular with shoppers and office workers over lunch, however I personally find it a bit too smokey during the day. At night, it's a great venue to really let your hair down.
Its popularity during the evening and into the night can be attributed to its offers on beers, spirits and the numerous cocktail happy hours. They can make you a mean 'Sex on the Beach' - although I'm sure all our female readers will sympathise with the embarrasment of asking the barmen for one! They always smirk, raise their eyebrows and say 'anytime love' in a suggestive tone!!!!

The atmosphere is good, both on the weekends and during the week when it's popular with students. Karaoke night is Wednesday and it's definitely worth going. Look out for the management team of Morrisons in Barry who are dedicated regulars...!

Top Tip: Look out for the boards outside letting you know when Happy Hour kicks off.
Posted by lizzie 28th May 2003