You are here: Homepage >> Pubs >> City Centre >> O'Neill's (Trinity Street)
O'Neill's (Trinity Street)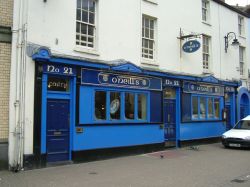 21 Trinity Street, Cardiff City Centre, CF10 1BH [Map]
Tel: 029 2037 1263
The original Irish bar in Cardiff city centre. A good place to start your evening - Little O'Neill's as it has become known (due to the Big O'Neill's on St Mary Street) always has a good atmosphere especially on match days.
There are nowhere near enough seats in the place when the crowds gather toward the later part of the evening and standing room is at a premium most Friday and Saturday nights.

The infamous spirit Poteen is readily available at the bar but should be taken sparingly due to its mind-altering abilities.

All in all this is a good bar but if you are planning on partying through till the early hours then Big O'Neill's (on St Mary Street) is probably your best bet.

The bar staff are friendly here and at its busiest there are plenty of them to take your money and refill your glass.
Posted by Keefah 19th June 2003