You are here: Homepage >> Pubs >> Pontcanna & Cathedral Rd >> Y Mochyn Du
Y Mochyn Du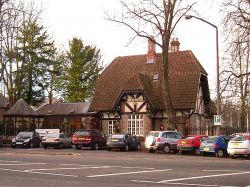 Sophia Gardens, Cardiff, CF11 9HW [Map]
Tel: 029 2037 1599
On Gerddi Sophia (Sophia Gardens) in Pontcanna, the Mochyn Du is probably one of the best public houses in Cardiff, and known for its strong Welsh-speaking atmosphere.
The Mochyn Du is located opposite the Institute for Sport and the Glamorgan Cricket fields. It's one of my favourite Cardiff pubs for several reasons. It's got a massive beer garden given its proximity to the CBD, serves good bar meals and has a neat selection of beers (although the Hoegarden is a bit dear, IMHO).

Furthermore, it's one of the few pubs in Cardiff where you are 99.9% certain to hear the language of heaven - I mean Cymraeg/Welsh - on a regular basis!

It's a popular haunt with the mainly Welsh-speaking residents of Pontcanna and Welsh speakers throughout Cardiff. If you want to visit a genuinely Welsh pub while in Cardiff, go there!
Posted by Ger 29th June 2003