You are here: Homepage >> Pubs >> City Centre >> Yard
Yard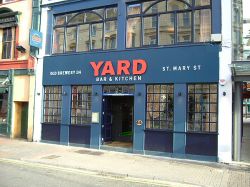 The Old Brewery Quarter, Cardiff City Centre, CF10 1AD [Map]
Tel: 029 2022 7577
Simply put: the jewel in the crown of the Brains Brewery empire.

Newly opened on the site of the old brewery (and Albert pub) this city centre bar is possibly the most stylish yet in Cardiff. It's also one of the BIGGEST bars in Cardiff with a total capacity in excess of 800!
The design is best described as industrial/modern. They have retained lots of features from the original brewery, such as old brickwork and girders, and have blended them seamlessly with modern stainless steel fittings, trendy seating arrangements and plasma screens to create a very impressive venue.

The Yard is split between two floors with two bars and a kitchen on the ground floor and another bar on the upper floor. The food menu includes a good range of snacks as well as main meals - most of which are reasonably priced.

Apparently the term used to describe this kind of modern pub/bar/eatery is "bar & kitchen", so there you go...consider yourself educated ;)

During our visit (which was early evening) there were waiters and waitresses on hand to take orders for drinks and snacks from our table. I found this service a little unusual for a city centre bar but made good use of it all the same! I wonder how well they will cope with this kind of arrangement on a busy Saturday night - maybe it'll be bar-only service on such occasions...?

Even if you aren't sold on the idea of modernising old pubs and creating shiny new venues - I would recommend at least one visit to The Yard, just to see what a fine job they have made of it.

Top Tip: Try a sausage or bacon sarnie. For £2.75 you get a doorstopper of a sandwich plus chips!
Posted by Taffy 28th October 2003