You are here: Homepage >> Restaurants >> Spanish >> La Tasca - Tapas Bar
La Tasca - Tapas Bar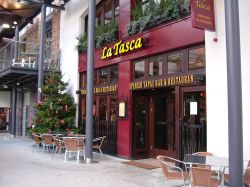 The Old Brewery Quarter, Cardiff City Centre, CF10 1FG [Map]
Tel: 029 2023 0087
Located in the re-developed Old Brewery Quarter - La Tasca opened its doors in the Autumn of last year. La Tasca is part of a chain of Spanish Tapas bar/restaurants dotted around the UK and if this one is anything to go by - they will all be very popular.
The menu consists mainly of Tapas dishes but there are also a selection of paellas available after 6pm each day. Tapas is a great way of experimenting and trying different foods because you only get small 'sample size' portions of each dish. 2 people might try a selection of 4 or 5 dishes between them - and there are plenty to choose from. The Tapas menu contains over 35 dishes ranging from sautéed King prawns, to garlic chicken wings, to vegetarian dishes like spicy deep fried potatoes. With most of the dishes costing between £2 and £4 La Tasca is a very affordable place to eat out.

The restaurant itself has a very Spanish feel to it - with warm orange and yellow decorations and a relaxed cafe like air about the place. There are two floors to the restaurant, with a bar situated on each, so there's always plenty of Sangria available!

The range of drinks on offer is of course heavily influenced by the Spanish theme. San Miguel, Corona and Estrella Damm make up the beer offerings whilst the wine list is dominated by a large selection of red Riojas.

We went along during a busy Saturday afternoon and whilst the restaurant was packed, the staff were very polite and attentive at all times. Interestingly, most of the staff were actual Spaniards - which really added to the whole Spanish theme!

La Tasca would make a great location for a party or celebration due to it's informal and busy atmosphere - but it's maybe not the ideal location for an intimate dinner. Try it out and see what you think...
Posted by Taffy 23rd March 2004
Related Links