You are here: Homepage >> Restaurants >> Mediterranean >> Demiro's
Demiro's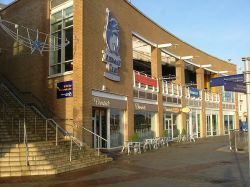 Unit 26 Mermaid Quay, Cardiff Bay, CF10 5BZ [Map]
Tel: 029 2049 1882
At some point during the early part of 2004 De Alto changed its name to Demiro's. We're not sure whether the change of name also heralded a change of management, but the restaurant continues to serve up Mediterranean food in modern, stylish surroundings.
Demiro's is located alongside Roald Dahl Plass in Cardiff Bay. Its location makes it very popular during the summer months, especially as there is an outdoor seating area.

The food here is very good, with prices about average for a restaurant located in Cardiff Bay: around £10 a main course and £14 a bottle of wine. You can choose from a large range of pizzas, pastas and other Mediterranean dishes. All portions are generously sized and well prepared.

Unfortunately for us the bad points outweighed the good. Cheesy waiters hang around in the doorway, enticing people in from the walkway outside – even if it's already busy enough inside. Their philosophy is obviously to serve guests as quickly as possible in order to increase profits, but that is when mistakes are made...such as white wine arriving instead of red, main courses arriving before starters and the bill being offered just as you swallow your last mouthful of dinner.

Also be aware that the Mexican style band (complete with accordian, maracas and sombreros), haven't just come into the restaurant for a quick ditty...oh no...they are there as part of your evening's entertainment. Great if you're in the party mood but rather irritating if you're there to relax and unwind.

For chocolate lovers there is a particularly interesting dish on the dessert menu...a chocolate fountain. It's a bit like a huge chocolate fondue, into which you dip pieces of skewered fruit and mashmallow. It all looks great until you notice the occasional young kiddie run past and wash their hands in the fountain :(

Good food, but we'll give it a miss next time!
Posted by J-Lo 23rd August 2004
Related Links