You are here: Homepage >> Restaurants >> British Traditional >> Plymouth Arms, St Fagans
Plymouth Arms, St Fagans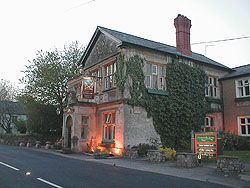 Crost Y Genau Road, St Fagans, Cardiff, CF5 6DU [Map]
Tel: 029 2056 9173
Traditional British fare within easy reach of the Welsh Folk Museum in St Fagans - the Plymouth Arms is a nice alternative to the city centre rush.
I would class this as more of your traditional pub/restaurant with large servings of good food. It's part of a chain, but doesn't feel like it as the decor is completely in keeping with 'ye olde pub' image and it seems like it's been there forever. The beer garden is huge with lots of seating for relaxing on a sunny summers day. With the Welsh Folk Museum just around the corner, this pub is popular with tourists and families on a day out. With the admission to the museum now free - you can walk off the lashings of custard you had with your pudding!

The Plymouth Arms is the perfect place to take your parents for Sunday Lunch...but maybe that gives the wrong impression as there are generally groups of all ages - young families, friends, whatever. So this is the perfect place to take anyone for lunch on any day, especially if you want to avoid the hustle and bustle of the city centre on a Saturday.

Top Tip: Good Wine selection and LOVELY puddings just like your Granny used to make.
Posted by lizzie 7th April 2003