You are here: Homepage >> Restaurants >> Indian >> Mango House
Mango House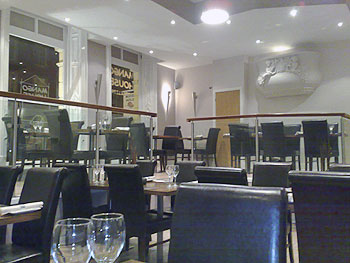 Mango House, Grand Hotel, Westgate Street, Cardiff City Centre, CF10 1DD [Map]
Tel: 029 2023 2266
The Mango House is an Indian restaurant that opened last year (2008) in a building once occupied by the Grand Hotel. The building itself has been given a makeover and the restaurant occupies a prime spot towards the front, just overlooking Westgate Street.
Mango House was already a highly successful Indian restaurant based in Magor, so it was widely welcomed when the owners decided to open up another restaurant in Cardiff city centre.

We visited quite late on a Friday evening and found the restaurant busy, but with one or two tables free, thankfully! Inside there is a raised seating area towards the front of the restaurant (which looks out over Westgate Street) and a bar area with more seating towards the centre of the restaurant. The atmosphere was informal and relaxed, with a mixture of couples and small groups of diners. The restaurant's floor space isn't particularly big for a city centre restaurant, but the high ceilings and ornate plaster mouldings give it a sense of elegant grandeur. Overall, the restaurant has a contemporary and stylish appearance that is in keeping with the look of many modern-day Indian restaurants.

The menu contains a wide array of Indian dishes, with something for all tastes…curry tastes that is! There is a particularly interesting section for 'Chilli Freaks', which offers spiced-up versions of everyday favourites, like Tikka Jalfrezi Extra, Chilli Madras and Chilli Massala. There also appeared to be a very comprehensive vegetarian section to the menu, as well as many seafood dishes. Also to be found among the 'House Specials' were a couple of Duck dishes, which is a first in my book for an Indian restaurant.

As is often the case with more 'up market' curry houses, you have to specifically ask for lime pickles (the hot stuff) to be included with the tray of chutneys that accompany your poppadums. We asked and were duly brought a fine selection of three spicy pickles, in addition to the main chutney tray. They ranged from fairly hot to very, very hot and went down a treat!

For our mains we opted for one Bual Maach Achar (Bangladeshi Fish) and one Tikka Chicken with Peppers & Pineapple, both with rice and naan bread. Both main meals arrived in large ceramic dishes, which looked to be holding very generous portion sizes. Both meals were very well prepared and tasted delicious. My Bangladeshi fish came in a chilli, ginger, mustard and mixed spice sauce. It was perfectly flavoured and tasted great.

By the time we had finished our meal the restaurant seemed to be quite empty, so it probably isn't the type of curry house you would want to be heading to in the wee-small hours, because it would probably be shut. This is definitely more of an up-market curry house for special occasions.

To summarise; I would recommend this restaurant to curry-lovers of all types. The food is more expensive than the usual curry house offerings you find elsewhere in Cardiff (Canton for instance), but if you want to enjoy a delicious curry in stylish surroundings, in a restaurant that offers that little bit extra, then why not treat yourself to an evening at the Mango House.
Posted by Taffy 3rd March 2009
Related Links