You are here: Homepage >> Restaurants >> British Traditional >> Toby Carvery - The Masons Arms
Toby Carvery - The Masons Arms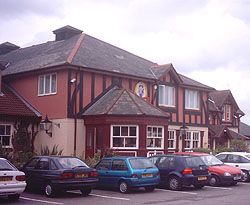 21 Tyn-y-Parc Road, Whitchurch, Cardiff, CF14 6BH [Map]
Tel: 0845 112 6080
This is the perfect eatery for all those 'Homer Simpsons' among us. The Toby Carvery (a.k.a. The Masons Arms), situated just off Manor Way, is a large and spacious, 'Beefeater' style restaurant/pub.
Sunday lunch will set you back a mere £7.99 and for that you get an 'all you can eat' carvery. A generous portion of meat is carved and served up for you by the chef himself (unless you prefer the vegetarian options on offer) - you then get to help yourself to giant sized Yorkshire puddings, crispy roast potatoes and as much veg as you can manage. Go on - stuff yourself silly! For those of you who dare, a range of reasonably priced starters and desserts are on offer too.

It's a busy place but they have a reservation system in place and the queue goes down pretty quickly. By the time you've ordered that pre-dinner drink at the bar, your name is being called. Definitely worth the wait.
Posted by J-Lo 19th May 2003