You are here: Homepage >> Restaurants >> Italian >> La Lupa
La Lupa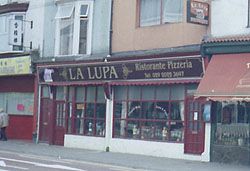 155 Cowbridge Road East, Canton, Cardiff, CF11 9AH [Map]
Tel: 029 2022 3697
If you're particularly indecisive - don't eat here! La Lupa is an Italian restaurant that has such a varied menu (including pizza, pasta, steak, chicken 'pollo' and vegetarian options) that you will spend half your evening trying to decide what to eat. The starter menu is equally impressive.
La Lupa offers a very friendly atmosphere and is ideal for intimate dinners for two as well as larger parties. Tell the waiter it's your birthday and you'll get a free sambuca. Order a birthday cake and the whole restaurant will join in and sing happy birthday as the lights are dimmed and the candles lit.

The food is very reasonably priced and the quality excellent. Diners also have a good view of the kitchen so you can see for yourself that standards are high.

The only downside is that due to it's popularity, you may have to wait a little longer than usual for your meal to arrive, but it's never stopped me going back. Visit La Lupa - a special evening out for very little cost.
Posted by J-Lo 13th June 2003