You are here: Homepage >> Restaurants >> Indian >> Spice Merchant
Spice Merchant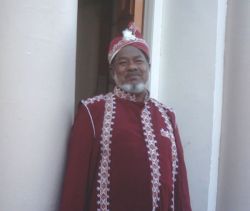 The Big Windsor, Stuart Street, Cardiff Bay, CF10 5BW [Map]
Tel: 029 2049 8984
Authentic Curry with a modern twist. This is a reasonably new development in the bay, situated next door to Woods Brasserie and just in front of Harry Ramsdens. As I walked in I was greeted by an elderly Gentleman wearing an Indian ceremonial suit which I thought was an excellent touch. It really made me feel welcome and that I was going to be getting some great service. I wasn't disappointed...
The interior decor is contemporary and far removed from your normal curry house. It does tend to get busy on Friday and Saturday nights so it is advisable to book if you want to eat between 7 and 8.30pm. Even when it is busy the atmosphere is friendly and relaxed and because of its location in the Bay - it doesn't attract too many customers who have over done it on the baby sham.

The menu is vast and provides the regular curry dishes that you all know and love, but also lots of more authentic dishes that really appealed to me. I chose a Khatlama which was described as a Bhuna style curry wrapped in Indian bread. When it was served it didn't look too dissimilar to a large Cornish pasty made from Naan bread but it tasted absolutely fantastic.

Be warned though, the menu makes it clear that all their dishes are made without artificial ingredients which makes them slightly hotter than you would expect from your local take-away. My advice would be to ignore this and go for what you really want to eat - it will be the tastiest curry you'll have eaten in ages, even if does make you sweat!
Posted by Mark 13th June 2003