You are here: Homepage >> Restaurants >> American >> TGI Fridays - Newport Road
TGI Fridays - Newport Road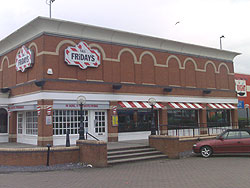 7 City Link, Newport Road, Cardiff, CF24 1PQ [Map]
Tel: 029 2046 0123
Although you think you know what to expect, you can still be surprised by TGI's.
I have to admit, I love this place. I don't think I could go here too often as the menu is huge and with lots of variety. I don't think I have ever had a meal I didn't enjoy. It's the only place I will order a baked potato instead of chips! Why? Because they fill them with cheese and sour cream and sprinke bits of bacon on the top - mmm mmm mmmm.

The food is great, and although it's pricey, the customer service is second-to-none. For example, on my last visit my main course was delayed for 10mins due to a mix-up by our server. I was happy to wait and sip on my pina colada but the manager still came over, personally apologised and took both our main courses off the bill. This ensured that I would leave happy and return without a second thought!

It's great for families, as the kiddies always get a huge welcome and a balloon! It's also perfect for a relaxed meal with friends or a special occaision. I've spent so many of my birthdays here that I've lost count!

The out-of-town location can be a pain, but at least you know you can park when you get there.

Top Tip: Try the steak fajitas and experiment with the cocktail list!
Posted by lizzie 12th February 2003