You are here: Homepage >> Restaurants >> Indian >> Star of Wales
Star of Wales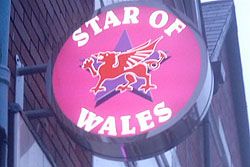 438 Cowbridge Road East, Victoria Park, Cardiff, CF5 1JN [Map]
Tel: 029 2038 3222
With all the new Indian restaurants springing up in Cardiff, I guess you would call this place one of the more traditional curry houses. Despite the new sign outside - the interior remains the same with large wall murals depicting the many colourful sights of India.
Whilst Iím struggling to think of anything outstanding to say about this place - it remains a favourite of mine. The food is great with plenty of choice including all the usual Indian dishes plus a few of the chef's specialities. A limited range of English dishes, in particular a variety of omelettes and steaks are also available for the less adventurous.

The staff are very polite and friendly and will offer to wrap up any left overs for you to take home for your breakfast. Perhaps what keeps me going back is the relaxed atmosphere and the fact you donít need to dress up if you donít want to.
Posted by J-Lo 23rd June 2003