You are here: Homepage >> Restaurants >> Italian >> Trattoria Pulcinella
Trattoria Pulcinella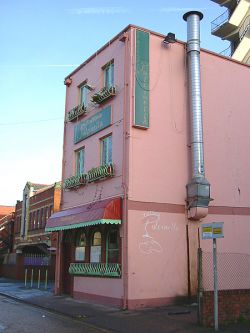 9 Park Lane, Cardiff City Centre, CF10 3BU [Map]
Tel: 029 2034 0397
The Trattoria Pulcinella is hidden away in Park Lane, just off Queen Street. It's an ideal venue for those wanting to take time out from a busy Saturday shopping session. Due to it's close proximity to the New Theatre it also provides the perfect setting for a pre or post show dinner.
The restaurant is quite small but there are tables situated on all three floors. If you book in advance, ask for a seat in the main (upstairs) restaurant so you don't have other diners constantly walking past you. The atmosphere is informal and relaxed so there's no need to worry about dressing up.

The menu is not as varied as some Italian restaurants but it does offer a good selection of the usual pasta, chicken and vegetarian dishes at a price that is reasonable for a city centre venue.

My first visit was for a Christmas Party and as such it is difficult to judge the standard and quality of service; like most restaurants at Christmas they were catering for too many people. Nevertheless, the staff were friendly and fast. I particularly liked the labour saving method of lowering a bucket from the top floor to the kitchen below to collect bottles of wine.

Try it out but maybe after the Christmas rush...
Posted by J-Lo 23rd December 2003