You are here: Homepage >> Restaurants >> Modern European >> Woods Brasserie
Woods Brasserie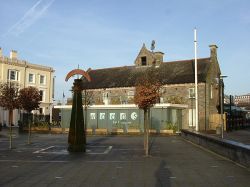 The Pilotage Building, Stuart Street, Cardiff Bay, CF10 5BW [Map]
Tel: 029 2049 2400
Woods Brasserie in Cardiff Bay comes highly recommended from all who have visited it. Modern British cuisine served in informal and relaxed surroundings.
Set in the old pilotage building, the contrast between the traditional exterior and the modern, chic interior adds to the charm of this restaurant.

As you walk in, the friendly staff will take your coats and guide you past the open plan kitchen to your seats. The main seating area is towards the back of the restaurant and it has a very light and airy feel to it, due mainly to the large glass walls, through which you can view Mermaid Quay and the bay beyond.

There is a top floor which contains an outdoor balcony seating area. This must be very pleasant in the summer, but is not recommended during the dark and dreary winter months!

As for the food, the menu comprises mainly of contemporary British dishes. Yellowfin Tuna and Salmon Ravioli were our starters of choice and both were cooked to perfection. For the main course we opted for Aberdeen Angus fillet and whole baby chicken. The food was beautifully presented and tasted delicious.

The wine list is extensive and includes a full page of vintage and fine wines for those looking to push the boat out.

If you're on a budget be warned that Woods is positioned towards the higher end of the restaurant market. That said, you get what you pay for and the standard of the food in Woods Brasserie is of the highest quality.
Posted by Taffy 7th February 2004