You are here: Homepage >> Visitor Attractions >> New Theatre
New Theatre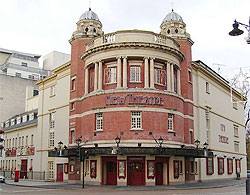 Cardiff's much loved New Theatre, opened in 1906 with a performance of Shakespeare's Twelfth Night, followed by its first pantomime, Robin Hood. Throughout its illustrious 100 year history the Theatre has undergone a number of refurbishments, the most recent in 2006. Fortunately, however, it has retained is music hall style and continues to charm audiences young and old alike.
Hospitality & Private Functions:
The New Theatre caters for a range of private functions including children's parties. The Stalls, Circle and Upper Circle foyers can accommodate parties of between 30 and 120 people depending upon the occasion and the Richard Burton Suite is suitable for between 10 and 50 people. For further information tel: 029 2087 8790.

Contact Details:
New Theatre
Park Place
Cardiff
CF10 3LN
Tel: 029 2087 8889
Minicom: 029 2087 8789
Website: www.newtheatrecardiff.co.uk

Box Office:
Monday–Saturday: 10am–8pm (6pm if there is no evening performance)
Tel: 029 2087 8889
Recorded Information: 029 2087 8890
Minicom: 029 2087 8881
Fax: 029 2087 8879

How to get there:
By Car: An NCP Car Park is located on Greyfriars Road just up the road from the New Theatre. Alternatively, on-street parking is available around the City Hall, which is free from Monday to Saturday after 6pm and on Sunday after 5pm.
By Bus: Various bus routes stop outside the New Theatre and the Cardiff Central Bus Station is about a 15 minute walk away. For further information on bus routes contact Cardiff Bus on www.cardiffbus.com
By Train: The nearest train station is Cardiff Queen Street, approximately 5 minutes walk away. Cardiff Central Train Station is a 15 minute walk away.
Posted by Taffy 25th July 2009