You are here: Homepage >> Restaurants >> Restaurants Now Closed >> De Alto
De Alto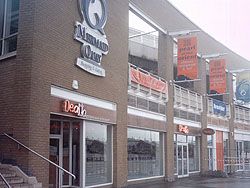 THIS RESTAURANT HAS NOW CHANGED TO: DEMIROS

Mediterranean bliss in Cardiff Bay. My favourite restaurant in all of Cardiff! Mmmm, I am hungry just thinking about it...
In early 2004 this restaurant became Demiro's, please read the new review here.

This is how a restaurant should be. Everything is freshly cooked in the open plan kitchen. The staff don't rush you - so you can enjoy your meal, spend a couple of hours working your way through the wine list and simply relax.

All the starters are yummy, but try the gorgonzola and mushroom one first! I also love the rosemary potatoes which accompany most of the main courses.

Perfect for a Sunday lunchtime treat.
Posted by lizzie 19th February 2003